Grinnell Web Services was started with the intent of helping local businesses be easier to find online. Small business owners are busy running their business and the tasks needed to make them easy to find online are specialized and time consuming. The vision was for Grinnell Web Services to specialize in those things and support local business by offering those services.
I do business by getting to know your business, your problems, and your dreams. The intent is to offer you what you need. Personalized service means we will need to meet, but we can do that in a variety of ways.
I can meet using video conferencing or by phone. Much can be done with email and for many things that is preferred. But it is hard to develop a relationship if that is the only way we meet.
In person is good as long as the travel time is not too long, the weather not too bad, and we both agree that the risk of disease is acceptable.
Unless the travel time is short, I may ask for a virtual meeting first to get acquainted and make sure an in-person meeting would be productive.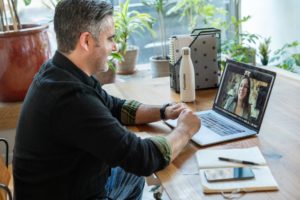 I have always had an interest in technology. A fond memory from elementary school is a tour of the phone company's central office. I was fascinated.
Years later I went to Iowa State University and received a bachelors and masters degree in Electrical Engineering.
Along the way I realized that computer software was even more interesting. I took a job with AT&T as a software developer. My experience included a variety of types of software including web development.
When that ended I returned to Iowa and am living in Grinnell.